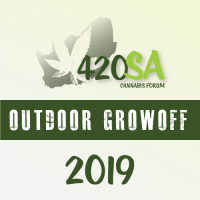 About This Club
Seed drop - 18/09/19 | Official club for the 2019/2020 Outdoor Growoff | If you'd like to participate start off by joining this club =>Then go to the "Sign Up Here" tab and sign up under the relevant thread | Click the blue "Follow" button to get updates from this club
---
What's new in this club

So unfortunately things have still been abit rough concerning available time but seems to be calming down the past couple days and hopefully things carry on that way 4 of the 6 have decided to be boys including the siamese twin , am thinking of harvesting some pollen from them for some future breeding , as all the plants have favorable characteristics This means I will run with #6 as my lady for the rest of this grow log , I was hoping to have her in her new home a while ago already and she should have been in these pics taken yesterday. I will chop and drop the covers in the container as soon as i can so she has some time in there before she jumps fully into flower 17/01/2020 Day 82 - #5 ; Day 83 - #1,2,3,6 ; Day 86 - #4 #1 #2 #3 #4 #5 #6

Eishhh.... outdoors we are all subject to mother nature and her moods. Good mending job there. Just prepare for the worst and hope for the best. Some stakes and a roll of electrical tape does come in handy though....hahaha.[emoji3] Sent from my SM-G900F using Tapatalk

Nice one dude. You ladies is loving the attention your giving them. Always fun to see what your doing next. Im a fan of tea's but haven't been using them to much this season. Next season I'll be more into homemade stuff than store bought stuff for veg and flower.

Hopefully??? Believe in yourself dude. It WILL give you good bud...

Oh yeah they are definitely looking better. Glad to see you got the hold of that issue. Nothing sucks more than deficiencies. Vegging is always a breeze but flowering kinda brings out the issues.... Woman, pffft.... LoL

I'm sitting with a pipe and a cup of coffee watching this wind just fucking rip through everything. Luckily my plants is braced but seeing them getting klapped like that gives a bad feeling in my stomach. Sorry about that break dude but I see you recovered nicely and looks neat. I already cleaned my lady from the bottom because of the wind. It helps quite a bit.

I didn't learn my lesson from last season [emoji26]. Want to put up a netting wall/windbreaker in front of the plants from the corner of the house to the vibracrete wall. This is also a perfect spot for a net structure like yours actually.

Yea I have had a lot of that with my outdoor.... I have since stopped training, and rather use a scrog net... Tying your outdoor plants will result in breaks every time... The wind is a really fucker

This is another reason I built a net structure for my plants. Cape Town wind is kak all the time. Plants are looking good though.

Being growing faster with daily watering and increased feeding. I installed a dripper system for both plants. Will start using it from tomorrow. The wind snapped two branches of the LST'd sister, did what I could this morning

Update on the ladies. Looking better, brown spots are becoming less think the Calmag is working.

Hey all, sorry, I'm withdrawing from this competition. Lots of reasons, but mainly I live in a small town and discretion is the watchword. For the record, 3 of the surviving plants were female, and went into my flower tent before xmas. One turned out to be male and had already started flowering by the time I got back, so i'm thinking I'm going to get lots of seed, choc x choc and choc x girl scout cookies. Thanks again to the organizers and sponsors, and good luck all.

Thanks guys. Hopefully she'll turn out ok. Sent from my SM-A700F using Tapatalk

Aaaaarrggg! Its so kak that we suffer dishonesty!! Sorry Brother. Let it be known: You brought a lump to my throat with your 21 Dec post. Thank you for that - beauty personified. NEVER give up brother, your hands have love in them.

Sjoe, that's a nice result @Mr_Nice_Guy Good going. I love all the learning one can get here in ZAR.

Shoot dude - in a spot with time (they say) Will be following your progress. We lost our planned crop outside to hail on the 23rd of December. Soz its new pips all round shootout to see if we can capture enough sun to manufacture some oil for 2020 season. Good luck and green results. We feel the season is late and we may have a longer summer per usual. Be ire if it turns out like that.

1

Yeah, give it a try and see. I can't say for certain the trich has helped but I haven't had issues and it's cheap. Regarding the Haifa nutes, no issues in flower so far. Not noticing any deficiencies or lock out / toxicity. Leaves are a good shade of green, not too light and not very dark. So far so good and it's convenient as the pH is where I need it after mixing the nutes. Using the Haifa on plants in both coco and soil. Sent from my Redmi Note 7 Pro using Tapatalk

@PsyCLown I'd love to add some trichoderma and all those nice beneficials to my growing. How's the haifa nutes doing in flower. Notice some slight nitrogen toxicity or dark foliage? Any feedback would be appreciated? I ask cos I know you following their feeding chart.

I personally much prefer using paper towels, each to their own though but I feel I have more control over the process this way. I know whether the seed has sprouted or not. I also do not have shaky hands, so that helps - once again those seedlings are fairly hardy. I have yet to have any seedling die during / shortly after being moved from paper towel to soil / coco. @Mambawana Trichoderma can help combat damping off. I soak my seeds with a bit of explogrow (as it contains trich) and then I use the explogrow infused water to dampen my paper towel and into a zip lock bag it goes until there is a tap root. Although to be fair, the paper towel is a fresh piece and it's a brand new zip lock bag as well. So I guess relatively clean. Trich is cheap though, well worth giving it a try to help prevent damping off and other issues.

Morning 420SA, The Chocolope lady is doing great. I've stopped the lst, just gently bending a branch here and there to open things up or level the canopy out. Did some defoliation yesterday, probably will do a few more as she is a bushy girl. Changed her feeding over to a more P&K dominant mix with a few other lekker additions. She did show some light yellowing/discolouration which presented like N or S def, but after feeding it resolved itself, reckon she was just hungry. She recieved an awesome tea yesterday to offset any stress from the defoliation and the heat. She's big and healthy and a pleasure to grow. Getting excited for the flowering.

If anyone in Johannesburg wants to press their nugs into rosin, hit me up. You just gotta pay for the bags used. Sweet homies

@420SA It's hard to say who the thief was but i've narrowed it down to probably being my gardener. Stole my awesome S&M BMX too, super bummed. Also taking a break from smoking, never thought I say that. No more morning eye drops haha

Whatsup everyone. Super late entry so not expecting any monster plants. But curious to see what we can do this late in the season. Gonna do the old paper towel method for germing and then into little pots and take it from there.

1

Got some serious contenders here!! But also seems most have began to flower already. But to keep up with these guys I need to pull a rabbit out of a hat!